Pararge aegeria tircis (Godart, 1821)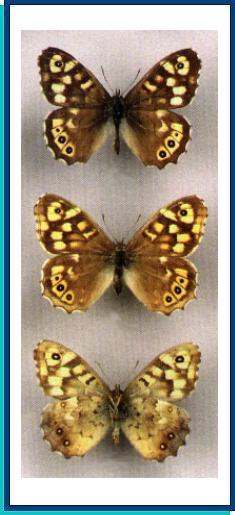 · TYPE LOCALITY. S. Europe and N. Africa.
· RANGE. From N. Africa across Europe to the Urals, the Caucasus and Asia Minor.
· DISTRIBUTION AND VARIATION. The European part, the Caucasus and Transcaucasia, all populated by the ssp. tircis (Godart, 1821) (= egerides Staudinger, 1871).
· HABITAT AND BIOLOGY. Sparse deciduous and mixed forests, field-protecting forest stretches, parks and orchards on plains and in the mountains up to 2,000 m a.s.l., flying mostly along roads, clearings, etc. In the southern regions, it flies from April to September in two to three generations. Host plants (Buckler, 1886; Nekrutenko, 1990; etc.): grasses Agropyron, Triticum, Poa, Brachypodium, Dactylis, Lolium, etc. Hibernation larval.
Photo and text: Guide to the BUTTERFLIES OF RUSSIA and adjacent territories Volume 1. PENSOFT, Sofia - Moscow. 1997